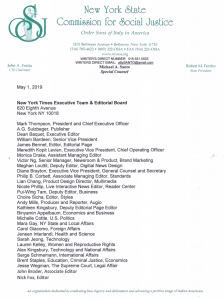 Click the image above to read the detailed letter to New York Times.
PRO BONO MATTERS
Assisted a disabled man to vacate a substantial and improper matrimonial support judgement in Superior Court, Newark, New Jersey, as well as moving to and obtaining a visitation Order that was otherwise not provided.
Defended a Certified Public Accountant sued in malpractice overcome a valid and substantial claim due to the defense of the statute of limitations, which was then a cutting edge argument was presented to and won at the Appellate level: Booth v Kriegel, 36 AD3d 312 (1st Department 2006)(article on case appeared as feature report on front page of New York Law Journaltwice: involving the trial and appellate level decisions). Decision later became the law in NYS.

Prepared, argued and/or submitted several Amicus Curiae briefs on behalf of the New York State Magistrates Association with regard to various issues involving the Justice Court system or its Justices. One involving wage reductions during the term of a Village Justice; another involved the dismissal policy of a Town Justice.

Represented a Baptist Church in the Bronx relative to a personal injury suit brought against them in Supreme Court, Bronx County.
Represented a Town Justice concerning an administrative trial in Syracuse by The State Commission on Judicial Conduct and presented his defense before the 11-member Commission body
Represented the New York State Order Sons of Italy Foundation and the Cellini Lodge Foundation in a Nassau County Surrogate Court proceeding to afford them tax exempt status in a Will that named their "non" tax exempt entities as distributes
Represented the Executive Board of the Order Sons of Italy in America in the US ED Courts concerning a civil forfeiture proceeding as to property in Suffolk County
MOOT COURT ADVISOR
Provided guidance and assisted in the preparation to high school students for an inter-scholastic high school moot court competition run by the Nassau County Bar Association held at the Nassau County Supreme Court: 2003-2009.